2019 Weible Pilgrimage to Medjugorje!
October 30 – November 07, 2019: $2,299 from New York
Weible Columns and 206 Tours will together be hosting a 2019 "Weible Pilgrimage" to Medjugorje. Our pilgrimage will be lead by Medjugorje guide, Slavenka Jelavic, spiritual director, Fr. Edward Chalmers and Wayne's widow, Judith Weible.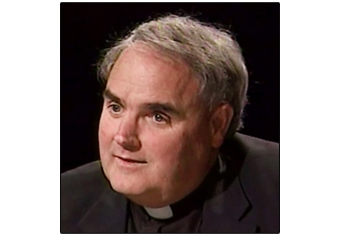 Fr. Ed. Chalmers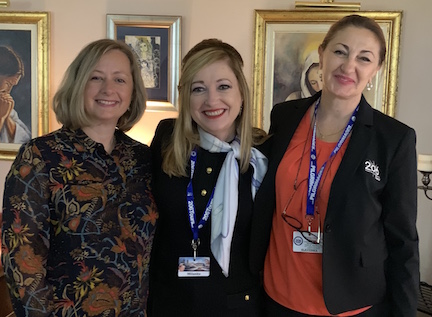 (left to right) Judith Weible, 206 Tours President - Milanka Lachman and Slavenka Jelavic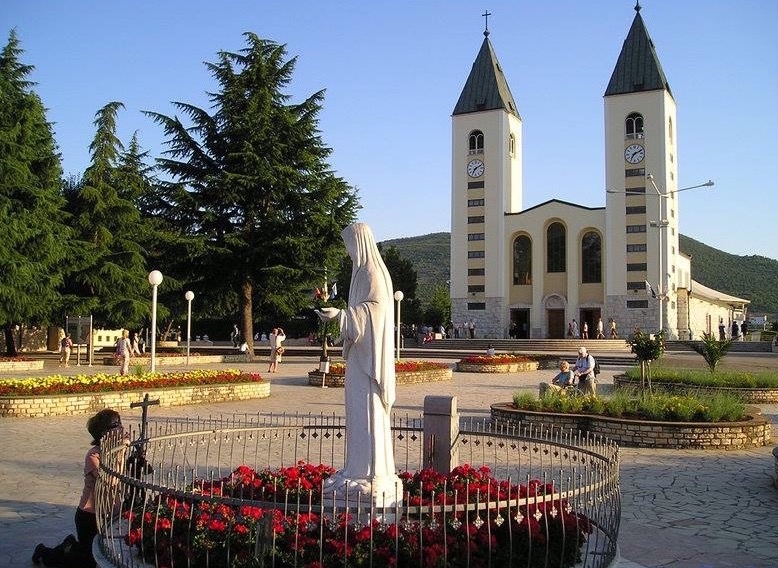 Our Lady invites each and everyone of us to a closer relationship with her Son, Jesus. A pilgrimage to Medjugorje gives us this incredible opportunity to meet Mary and Her Son is a very special and holy way. Many graces are poured out upon us while Medjugorje deepening our faith and prayer life. Join us for a wonderful time of love, laughter and sharing and come home renewed in your faith. Pilgrims have often described Medjugorje as "a taste of Heaven on Earth". In Medjugorje, when one takes time to pray and be still, it allows God to work in our hearts in an indescribable way. I hope you can us in what will be an incredible week!
Your Medjugorje Pilgrimage Includes:
Round-trip airfare from New York
Airport Taxes & Fuel Surcharges
7 nights in a modern Pansion/Hotel with private baths
Transfers as per itinerary
Breakfast and Dinner daily
Wine with dinners
Transportation by air-conditioned motor coach
Assistance of a professional local guide throughout
Sightseeing and admissions fees as per itinerary
Mass daily & Spiritual activities
Visit to Community Cenacolo
Meeting with visionaries (Pending availability)
Luggage handling (1 piece per person)
Flight bag & portfolio of all travel documents
Not included: Lunches, Travel Insurance optional at $99-$229, Cancel for Any Reason Protection @ $199, Tips to your guide & driver ($7-9 per day) and Items of a personal nature.
Contact Weible Columns office with questions:
Telephone: 1-877-896-6061
Email: info@weiblecolumns.org
Contact 206 Tours to book or for more details:
Telephone1-800-206-8687
Email Sandra: sandra@206tours.com
Email Danielle: danielle@206tours.com
(Be very specific that you want to book on the WEIBLE PILGRIMAGE TO MEDJUGORJE)

CLICK HERE to visit and book through 206 Tours' Weible Pilgrimage to Medjugorje webpage!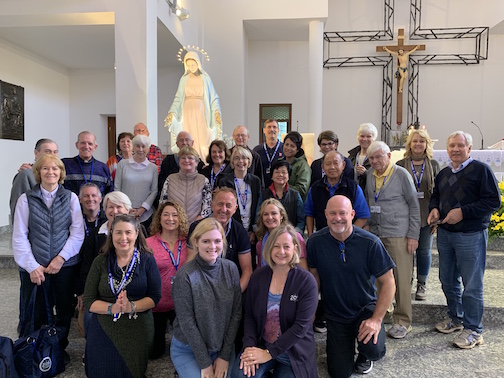 Itinerary
* Day 1 - Depart USA
Board your overnight transatlantic flight. Dinner and breakfast are served on board.
* Day 2 - Split, Dubrovnik or Sarajevo - Medjugorje
After an early morning arrival in Frankfurt you will have a connection flight to Split, Dubrovnik or Sarajevo. Upon arrival, you will be greeted by a tour guide and driver who will then take you on the 2 1/2 hour drive by private motor coach to the village of Medjugorje. Once there, you will be introduced to your host family in whose modern and comfortable house you will be staying for the next seven nights. Dinner and overnight.
* Days 3 to 8 - Medjugorje
You will experience the beauty and peace of this simple village. During your stay in Medjugorje you will have the opportunity to share your faith with thousands of pilgrims from all over the world. Our local guide Slavenka, will accompany the group throughout the week. Here are some of the activities we'll be sharing with our fellow pilgrims:
Each morning at 10:00 AM we will assemble at St James Church for the English speaking Mass.
We will follow the same path up Apparition Hill where the young visionaries first encountered Our Lady. Touch and pray before the cross that commemorates the spot where Mary first appeared to the visionaries.
Our guide will arrange meetings with the visionaries provided that they are in Medjugorje during your trip, and pending their availability.
We will have the opportunity to climb Mt. Krizevac (Cross Mountain), where in 1933 the villagers built a 30' high cross on the anniversary of Jesus' crucifixion. This Cross contains a relic from the actual Cross of Christ given to the villagers by the Pope.
We will Visit and pray at "Blue Cross" at the base of Apparition Hill, which is a place of great healings and graces.
We will visit the community of Cenacolo.
At 5:00 PM each evening (6:00 PM daylight savings time) we will join the villagers and pilgrims to pray the rosary. Be present in the church during the time of the apparitions at 5:40 PM (6:40 PM daylight savings time) and then stay for the Croatian Mass and the Blessing of the Sick. Thursdays and Saturdays is Adoration of the Blessed Sacrament and on Fridays, Veneration of the Cross in the church.
Private Mass held at one of the orphanages private chapels
Slavenka will arrange other special opportunities for us to grow spiritually.
Additionally, during our trip we will enjoy talks by Wayne Weible and have share time within our group.
* Day 9 - Medjugorje - Split, Dubrovnik or Sarajevo - USA
After an early breakfast and heartfelt farewells, we leave by motor coach for Split Airport for return flight home.

(left to right) Milanka Lachman with Medjugorje visionary, Marija!

Medjugorje visionary, Vicka!

Medjugorje visionary, Mirjana!
Contact Information to Book
Contact our office for details:
Telephone: 1-877-896-6061
Email: info@weiblecolumns.org
Contact 206 Tours to book or for more details:
Telephone1-800-206-8687
Email Sandra: sandra@206tours.com
Email Danielle: danielle@206tours.com
(BE VERY SPECIFIC THAT YOU WANT TO BOOK ON THE "WEIBLE PILGRIMAGE TO MEDJUGORJE")
CLICK HERE to visit and book through 206 Tours' Weible Pilgrimage to Medjugorje webpage!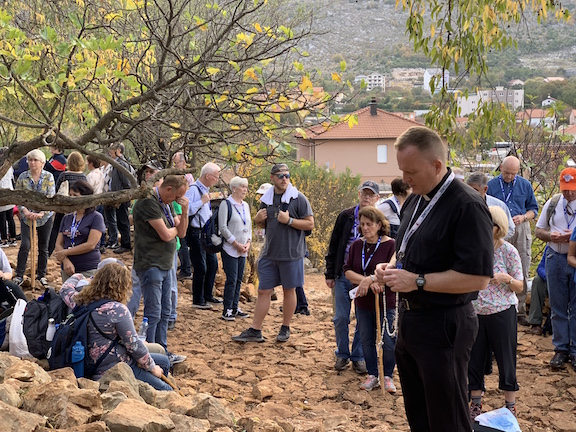 REFLECTION ON OUR 2018 PILGRIMAGE
WOW! WHAT AN INCREDIBLE WEEK!
Our "Wayne Weible Memorial Pilgrimage" to Medjugorje was, without a doubt, one of the most grace-filled weeks I have experienced. Firstly, I flew to Medjugorje with my very good friend, Diann who came on our pilgrimage last year and with Wayne's goddaughter, Kimmy. Soon, Christine and her husband, Alex, joined us on our adventure. Christine hosts the radio show, "A Light in the World" on Radio Maria. She had interviewed me earlier in the year, after Wayne passed away, and had decided to join us on pilgrimage.
Our group traveled into Medjugorje from Split, Dubrovnik and Sarajevo, originating in the countries of USA, Australia and England. As you can imagine, we didn't actually get to meet each other properly until the morning after our arrival.
Milanka, president of 206 Tours, decided to join our pilgrimage and I was thrilled she was coming. She loved Wayne very much, as did our Medjugorje guide Slavenka, and it was only fitting that we would all be together for this Memorial Pilgrimage. It was such a privilege to have Milanka in our group, as she met the pilgrims and shared so much with us. Thank you Milanka.
Fr. Ed. Serena joined us last minute as our spiritual director when Fr. Ed. Chalmers had to cancel due to health reasons. Fr. Ed was a wonderful addition! He tirelessly led us in prayer, Holy Mass and heard confessions every evening, making himself available to our group whenever he was called upon. I cannot thank him enough. The Holy Spirit had definitely put him on this pilgrimage but I will let you hear that story from Milanka later in this newsletter, in the article titled, "There are no coincidences with God".
Our first morning started on November 1stwith an orientation meeting on the grounds of St. James Church. It was All Saints Day, which is a public holiday both in Croatia and in Bosnia Herzegovina where Croats are the majority. The following day, All Soul's Day, is traditionally celebrated by visiting the graveyards of loved ones, laying flowers and lighting candles. Holy Mass is celebrated in every catholic graveyard either on All Saint's Day or All Soul's Day. It was a treat to witness such love and respect for the dead.
The next day was the day of Mirjana's apparition, which takes place at the Blue Cross on Apparition Hill at about 8:00 am. Determined to give the group a chance to witness Mirjana's incredible facial expressions during an apparition, I invited those that wanted to join Diann, Kimmy and me, in getting up at 3:00 am to walk through the fields to the mountain and to sit on the rocks for four hours, to join us. Surprisingly, about ten pilgrims decided to come! (The apparition is attended by several thousand people and so one must get up very early to be anywhere near Mirjana). Slavenka, our guide, escorted the rest of the group up to the hill at 7:00 am for the apparition.
We prayed the rosary and sang for the entire time, waiting for Our Lady to come! In the words of the pilgrims, "One of the greatest moments on the pilgrimage was getting up at 3:00 am, to be sure to have a great spot for Mirijana's apparition, sitting on a hard rock praying, singing, meditating in the still of the early morning. I could talk for days just about the apparition..."
On Friday evening my father arrived from England. My parents actually divorced when I was a one-year-old baby and so I have never really got to know my father. He came to support me for the memorial service but not being catholic or religious, I was a little nervous about what he would think of Medjugorje. However, my fears were quite unfounded as he was very touched the next evening during the Eucharistic Adoration service and was amazed by the kindness and friendliness of the people of Medjugorje and the pilgrims.
The next morning, we climbed Apparition Hill as a group, silently, and then praying the rosary together at each station. In the evening, we went to St. James for Eucharistic Adoration. As we walked towards the church we could see people from all directions heading towards the church. By the time we arrived behind St. James there were thousands of people sitting in almost silence waiting for the service to begin. Once it started you could almost touch the grace that filled the air. The Holy Spirit was so powerful, the presence of God so apparent it was like a cloud hovering over the altar and the huge congregation. I sat/knelt on the concrete ground as there were no seats left and normally I would have been terribly uncomfortable but when the priest stood up to repose the Blessed Sacrament, I didn't understand what he was doing as in my mind the service had just begun. I had no concept of time and couldn't believe it was already over; I didn't want it to end. For me, this was one of the highlights of the pilgrimage. All the pilgrims had a similar experience and when we returned to our hotel, spirits were high. I went to bed, thinking, "this pilgrimage can't get any better!" but the graces kept coming...
The next day was Sunday. We climbed Cross Mountain in the morning, lead by Fr. Pat from Wilmington, North Carolina. This was a deeply spiritual time for each person to carry their own cross up the mountain, along with Jesus, and then leave it behind at the top. After the climb, we had a private mass for 206 Tours pilgrims at a small church close by to the village. It was truly beautiful. Upon leaving the church, we announced to the group that we had a special treat for them, we were heading straight to the visionary, Marija's house for her evening, private apparition. The pilgrims were overjoyed! We entered the room and prayed the rosary while waiting for Marija. She came out and kneeled in front of our group, directly in front of me for the apparition, which lasted about four minutes. I knew Wayne was working from Heaven, blessing me in a special way and our group.
After the apparition, Marija repeated what Our Lady had said during the apparition and told us that she had blessed each of us present. Marija then gave us a short talk. Upon finishing, she showed us how Jesus and the Holy Mass was so much more important than an apparition by announcing we would have mass right away, right there in her retreat house. Exhausted as we were, we all thought this was a perfect end to the day and so Marija had me set up the altar for Holy Mass, while the priests scrambled to vest for mass and find a book with the readings in English.
Monday was an emotional day for me with the happiness of the pilgrimage mixed with the sadness of missing Wayne and having his memorial service. Upon arriving at St. James for the service, I met David Parkes. As many of you know he is an Irish, Catholic singer with an incredible testimony, I have shared with you later in this newsletter in the article titled, "The Physical and Spiritual Healing of David Parks". David was kind enough to sing "Ave Maria" at Wayne's service and it was incredible! Wayne would have loved it!
After the service, we all headed to the "Yellow Building" for a talk by Fr. Leon who is the parish priest in Medjugorje in charge of the English-speaking pilgrims. He gave a superb talk, embellished with his usual humor but right on the mark! What a gift he has for speaking!
After the talk, we headed to Grace Hotel for Wayne's memorial service reception. Grace did a lovely job placing Wayne's photo over the mantle with a candle and providing a fabulous spread of food. The guides and I offeredshort reflectionson Wayne and it was a great time to share stories about himand all he did for Medjugorje and each of us.
"Our week was also filled with a visit to Community Cenacolo, the drug rehab community and a visit to Tihaljina to see the statue of Our Lady of Grace. We also had daily mass, two additional evenings of Eucharistic Adoration and an evening of Veneration of the Cross. Each day at 5:00 pm, David, one of our pilgrims, would lead us in the rosary, pausing at 5:40 pm for the time of the apparition. Almost all the pilgrims would gather around for this special prayer time together. On the last evening, Fr. Ed. even added a healing service.
Slavenka worked diligently all day, everyday and long into the evenings to make this pilgrimage an incredible experience for each and every pilgrim. I cannot imagine a pilgrimage without her, thank you, Slavenka, for all your hard work; it doesn't go unnoticed.
No pilgrimage to Medjugorje would be complete without mentioning Viktors restaurant! Each lunchtime, most of our group would gather at Viktors for what I consider to be the best cuisine in Medjugorje. With its new location overlooking St. James, it is a great place to take a breath and some nourishment between activities. Great sharing, bonding, love and laughter took place at Viktors during this pilgrimage.
Lastly I have to mention our pilgrims. They were wonderful! Each and every pilgrim had a story of what had brought him or her on this journey to this miraculous village on the other side of the world. Each pilgrim added something special to the group. Thank you for being such amazing grace-filled people, each one 'A Light in the World'; just like the title of Christine'sradio show!
God bless you all and hope to see you on next year's pilgrimage!
Judith Weible
Review:"This trip is a must!!! We are so sad to be back home. Our hearts belong in Medjugorje. Judith and Slavenka make the extra magic happen! God is good. We will be back again and again!" Angela
Review:I have one word for everyone, "GO" a local resident here in NB that came from Slovenia nearby Medugorje, Bosnia-Herzegovina said this to me and the 10/31-11/7/18 pilgrimage was life changing! Rita
2020 Weible Pilgrimage to the Holy Land!
April 13 - 22, 2020: $4,622 from New York
Weible Columns and 206 Tours will together be hosting the "Weible Pilgrimage" to the Holy Land. Our 2019 pilgrimage was incredible.
CLICK HERE to read all about our 2019 pilgrimage to the Holy Land!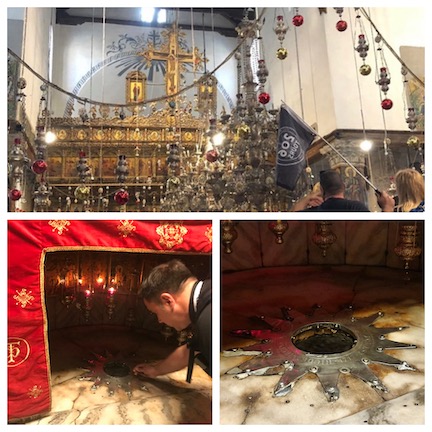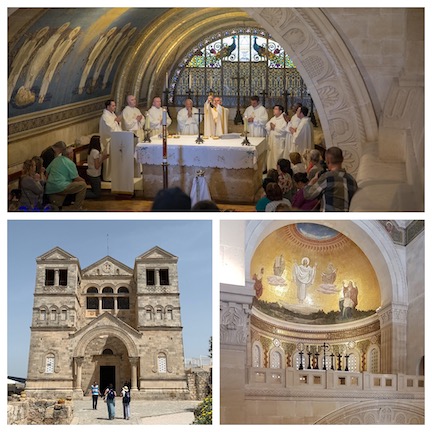 Your Holy Land Pilgrimage Includes:


Itinerary:
* Day 1 - Monday April 13, Depart for the Holy Land
Make your way to your local airport where you will board your overnight flight. Your meals will be served on board.
* Day 2 - Tuesday, April 14, Arrive in Tel Aviv
Upon arrival at Ben Gurion Airport in Tel Aviv, make your way to the baggage claim area and collect your luggage. Proceed to the Arrival's Hall, where you will be greeted by your tour guide and/or driver. Transfer to your hotel in Tel Aviv to check-in. Enjoy dinner at the hotel before retiring for the evening.
* Day 3 - Wednesday, April 15, Tel Aviv - Ceaserea - Stella Maris (Haifa) - Nazareth - Cana - Tiberias
The Annunication
Depart Tel Aviv to Caesarea Maritima, one of the three largest ports in the Roman world, next to Alexandria and Piraeus "Athens", which were built by Herod the Great between 21 B.C. and 9 B.C. It was in Caesarea where St. Peter baptized the first gentile convert Cornelius, and where St. Paul gave his defense of the church. From here, we will see the Roman Theater, Herod's Palace, view the Hippodrome, and the harbor from where St. Paul sailed on his journeys. Continue north to Haifa, located on Mt Carmel, where we will visit the Carmelite Shrine dedicated to Our Lady of Mt Carmel, and pray at the cave which Elijah the prophet took refuge. Continue on to Nazareth for lunch, and then visit the Church of the Annunciation. Visit the museum and archaeological garden where we can see the remains of Nazareth at time of Christ, as well as St. Joseph's workshop - which is now known as St. Joseph's Church. Within the Church of the Annunciation, you will make our way down to the Grotto to see the remains of the house of the Blessed Mother, and where the Angel of the Lord announced the good news to Mary. Celebrate Mass in this Church, and then continue on to Cana. It was here that Jesus performed His first miracle, changing water into wine. During your visit at the Wedding Church, married couples will have the chance to take part in the ceremony and renew their wedding vows. From there, we continue on to Tiberias, located on Sea of Galilee, for dinner and overnight.
* Day 4 - Thursday, April 16, Tiberias: Sea of Galilee
The Ministry of Christ in Galilee
Today, begin with breakfast at the hotel, followed by a boat ride on the beautiful and scenic Sea of Galilee (Luke 5:1). Upon docking the boat, you will have the opportunity to view the remains of a boat that dates back to the time of Jesus. Following the Sea of Galilee, we continue to the Mount of Beatitudes, where Jesus proclaimed His great Sermon on the Mount (Luke 6:20-49). Near the Mount, is Tabgha, one of Jesus' miracle sites. At Tabgha, Jesus fed the crowd of 5,000 people from five loaves of bread and two fish (Luke 9:10-17). Also, in Tabgha is St. Peter's Primacy where Jesus bestowed church leadership upon Peter (John 21:9). Continue to visit the birthplace of Mary Magdalene in Magdala. During the time of Jesus, this village was a prosperous fishing village that exported fish and garum (a fish sauce reduction; popular in Roman cooking). Your day concludes at Capernaum, the launching place of Jesus' ministry. In Capernaum, see the Synagogue where Jesus taught (Mark 1:21-29) and gave His sermon on the Bread of Life. Return to the hotel for dinner and an overnight.
*Day 5 - Friday, April 17, Jordan River - Mt. Tabor - Jericho - Jordan River - Jerusalem
The Transfiguration
After breakfast, drive to the site of the Transfiguration, Mount Tabor (Matthew 17:1-50). At this site, you will have some time to reflect on Christ's Humanity and Divinity. Celebrate Mass at the Basilica of the Transfiguration and then continue south towards the Jordan Valley, to the oldest inhabited city in the world, Jericho (Joshua 6:12-25). In Jericho, you view the exact location, the Mount of Temptation, where the Devil tempted Jesus during his forty-day fast (Luke 4:1). Following the visit to this mountain, continue to Jesus' baptismal site on the River Jordan (Matthew 3:13-17). After some time at the Jordan River, you will transfer to Jerusalem to check-in to your hotel for dinner and overnight.
* Day 6 - Saturday, April 18, Jerusalem: Temple Model - Ein Karem - Bethlehem
The Visitation and the Nativity
This morning, enjoy breakfast before we start our day in Jerusalem, which houses the temple to which Jesus was Presented (Luke 2:22). Visit a model of the Second Temple as it was in the time of Jesus. Following this visit, you will take a short drive to the village of Ein Karem, the birthplace of John the Baptist. It is known that there are two churches in Ein Karem, representing the two homes of Zechariah and Elizabeth. The first is in a valley where the birth of St. John the Baptist is commemorated (Luke 1:39-80) in the Church of the Nativity of St. John the Baptist. The second is on a hill where Elizabeth spent five months in seclusion (Luke 1:24) at the Church of the Visitation. You will have a chance to visit both of these churches and have the opportunity to pray the Mystery of the Rosary as you walk up the hill to the Church of the Visitation. In the afternoon, transfer to Bethlehem, the birthplace of Jesus. In Bethlehem, you will have the opportunity to view the Shepherd's Fields (Luke 2:8). In the caves of these fields, you are still able to see the soot marks of fires that shepherds lit to keep warm. The tour concludes at the Manger Square, which stands in front of the Church of the Nativity. As you enter the Church, you will proceed down to the Grotto of the Nativity which marks the spot of Our Savior's birth (Matthew 2:1-18). Beneath the altar, there is a silver star and a Latin inscription that states: HIC DE VIRGINE MARIA JESUS CHRISTUS NATUS (Here Jesus Christ was born to the Virgin Mary). Following Mass in this Sacred space, return to the hotel for dinner and an overnight.
*Day 7 - Sunday, April 19, Bethany - Dead Sea
Early Years in Jerusalem and the Wilderness
Following breakfast at your hotel, you will travel down the Jordan Valley to Qumran. Qumran is made up of 2,000 year old ruins from the days of the Second Temple and also the site where the Dead Sea Scrolls were written and discovered (Ezekial 47:8-10). These writings have helped further the understanding of Jewish background in Christianity. Time and weather permitting, you will have the opportunity to take a float in the Dead Sea, the lowest and saltiest spot on Earth. Continue as you travel through the Judean wilderness, the site where Jesus spent His 40 days of fasting. The day of touring culminates with a transfer to Bethany. Bethany is the site where Jesus raised Lazarus from the dead which foreshadows His own Resurrection (John 11:38-44). Return to the hotel for dinner and an overnight.
* Day 8 - Monday, April 20, Jerusalem: Mt. Of Olives - Gethsemane - Mt. Zion (Upper Room) - Western Wall
Palm Sunday and the Agony in the Garden
After breakfast, you will make your way to the Mount of Olives, where you will be able to take in the beautiful, panoramic view of Jerusalem. Historically, the Mount of Olives was a mandatory transit point for Jesus during many iconic moments. Visit the Pater Noster Shrine where Jesus taught His disciples the Lord's Prayer (Pater Noster) (Luke 11:1-4). You will have the opportunity to stop at Dominus Flevit which is a Church that commemorates where Jesus wept for Jerusalem (Luke 19:41). Continue on to Gethsemane, a garden at the foot of the Mount of Olives. Jesus brought His disciples here to pray the night before He was crucified (Luke 22:29-53). The Garden still contains trees with roots that date back to the time of Jesus. Your next stop, the Church of All Nations, is built over the "Rock of Agony". This is where Jesus prayed alone on the night of His arrest. Throughout this time, you are invited to remain in prayer and to reflect on Christ's agony that He experienced. You will have the opportunity to visit the Western Wall, which is the last remnant of the Jewish Temple after it was destroyed in 70 A.D. Continue with a visit to the house of the High Priest Caiaphas (Church of St. Peter in Gallicantu). This Church commemorates where Jesus was examined and eventually imprisoned before the Council in Jerusalem. It also commemorates Peter's Denial of Christ (John 18:15-18), Peters' repentance, and Jesus' forgiveness of Peter. You will also visit the Upper Room on Mt. Zion. The Upper Room is where Jesus and His disciples celebrated the Last Supper (Matthew 26:17-30) and where Jesus appeared to His disciples after His Death and Resurrection (Mark 16:14). In addition, visit the nearby Benedictine Church of the Dormition. Tradition tells us that this Church is where Mary, the Mother of Jesus, "fell asleep." At the end of this prayerful day, return to your hotel for dinner and an overnight.
* Day 9: Tuesday, April 21, Jerusalem: Via Dolorosa - Holy Sepulchre
The Way of the Cross, the Crucifixtion and the Resurrection
This morning you will have a very early wake-up to begin the Via Dolorosa (The Way of the Cross) at the Antonia Fortress. This is the spot where Jesus was condemned to death by Pontius Pilate (John 18:28-19:16). Following His condemnation, He was taken (on the Road to Calvary) to His place of Crucifixion. Reflect upon the Stations of the Cross as you travel through the markets of the Old City to the Church of the Holy Sepulcher (Luke 23:26-33). This sacred destination is the site of Calvary (Jesus' crucifixion place) and His tomb (Luke 23: 50-55). Celebrate Mass at the Church of the Holy Sepulchre. Following Mass, we will return to the hotel to enjoy breakfast. You will continue your day with a visit to the Church of St. Anne's, the home of Jesus' maternal grandparents (Anne and Joachim); and the Pool of Bethesda, where Jesus healed the crippled man (John 5:1-9). This afternoon, enjoy a revisit to the Old City. Following this visit return to the hotel to enjoy dinner and an overnight at your hotel.
* Day 10: Wednesday, April 22, Return Flights Home
After an early breakfast and heartfelt farewells, transfer to the Tel Aviv airport for return flights home.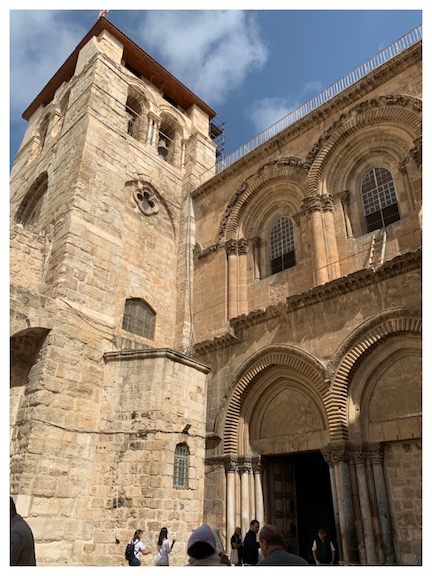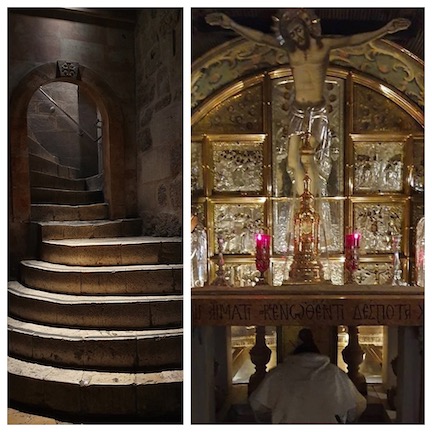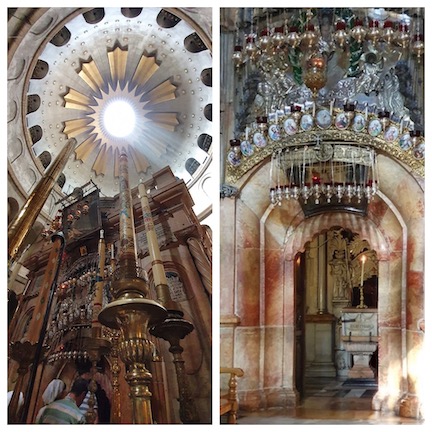 Contact Information to Book
Contact Weible Columns office with questions:
Telephone: 1-877-896-6061
Email: info@weiblecolumns.org
Contact 206 Tours to book or for more details:
Telephone1-800-206-8687
Email Sandra: sandra@206tours.com
Email Danielle: danielle@206tours.com
(Be sure to ask about: Weible Pilgrimage to the Holy Land)

CLICK HERE to visit and book through 206 Tours' Weible Pilgrimage to Medjugorje webpage!