Invite Wayne to Speak in Your Parish or Community Center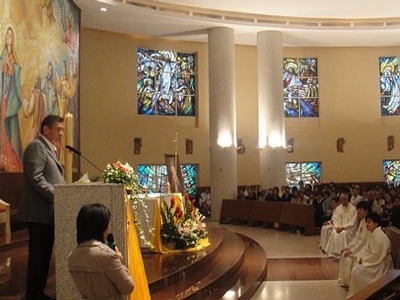 To schedule a speaking engagement, please contact our office, 1-877-896-6061, or send an e-mail to: info@weiblecolumns.org
Speaking Guidelines
The following guidelines are to assist you in your planning of the event(s).
It is suggested that a group, a committee or at least two or more people be involved in organizing the event with detailed planning of advertising through flyers, newspapers and other media and means. We have sample flyers and information we can send you to help you in this step. Once you confirm a date and time, contact Mary at the office so she can make all travelling arrangements. A detailed itinerary of the tour should be sent to info@weiblecolumns.org at least a month in advance of arrival.
Flight and travel arrangements will be arranged by my office unless otherwise agreed to in advance. Flight receipts will be emailed to you so the reimbursement of the flights can be mailed to our office. Included in the flight cost is a $100 addition for Wayne travelling from his home town to the Atlanta Airport. Wayne lives two hours from the airport. All travel expense payments should be made out to Weible Columns, Inc. If by chance, we book other talks in your area the travelling expenses will be shared.
We suggest a love offering directly after each talk to cover an honorarium. Please give Wayne the love offering/stipend after his talk before he leaves. If the church or organization wishes to mail a check to the office, please let Wayne know and make the check for the love offering/stipend out to W.A Weible.
Please make all accommodations for overnight stay(s). These should be in a modest hotel or motel as close as possible to the site of the talk. Preferable motels include Comfort Inn, Sleep Inn, Clarion Inn, etc. Please have check-in completed at the time of Wayne's arrival if possible. Please, no private homes, rectories or retreat homes. Also, please arrange to have someone pick Wayne up at the airport and get him to the hotel, talks and back to the airport.
Speaking Sites
It is preferred that all speaking engagements take place within a church (preferably), theater or auditorium. Capacity for any facility should be for at least five hundred people (although smaller sites are acceptable). The site should be easily accessible and have adequate parking. In smaller towns or areas, the largest facility available is fine. Please check to insure that there is a good public address system. Portable units are usually inadequate. Also, a podium is requested.
Promotion
It is very important to let, as many people as possible know of the tour. Advertise the event prominently using secular newspapers, fliers, church publications, bulletins, radio and TV News. We hope you will contact the various media in your area to cover the talks as well as personal interviews with Wayne that will be published in local newspapers, aired on radio and television talk shows. Pre-talk publicity or press releases are encouraged. Book signings may be arranged through your local bookstores.
Sale of Material
Sale of materials is a secondary concern at the talk, but is our only way of maintaining our mission. We have books, rosaries, and free pass-out material that we supply. We send the material at least one week in advance and ask that you check in the material with the enclosed packing slip. Please let us know if you have a different count or something is missing. Also enclosed with the items will be price sheets and instructions for the Credit Card machine which Wayne will be bringing. Please set up a book table near the speaking site. A commons area is always a good place for the table. Please arrange to have a few people volunteer to work the Book Table to help with the sales. Wayne will be at the table to talk and sign books. If there are any books or rosaries left over, they are to be shipped back to our office or make arrangements with Wayne. If there are only a few things left, he might be able to put them in his luggage to save time and money. Please help Wayne pack things up and give him the credit card machine and all the monies from the table.
Miscellaneous Information
We suggest that the event may include praying the rosary, Mass, or Adoration of the Blessed Sacrament. Starting time is usually 6:30PM- 7:30PM
Please do not schedule meals in homes or restaurants with groups prior to talks without pre-approval.
Please do not promise personal appointments without prior approval.
If you have any questions please do not hesitate to contact our office at 877-896-6061, or email our office at info@weiblecolumns.org
God bless you and thank you for helping to spread Our Lady's important Medjugorje message.